1967...


...well, '68 actually with this pic, the earliest one we can find currently.


...and still going strong in 2021, 54 years a band

Sydney Blues Society honours
patrons with 2007 T-shirt:
Where to see us.
Scroll down
* * *\
RAY BEADLE and
The FOREDAY RIDERS
- New album and Tour!
Ray Beadle - Guitar & Vocals
Ron King – Harmonica & Vocals
Jeff King – Guitar & Dobro
Stan 'Sleepy' Mobbs - Bass
Rosscoe 'Stinger' Clark - Drums

Album Out: 13th May 2022 on Interface Blue

IMPORTANT NOTE: Anyone who intended coming to the previously advertised 1st gig on the 14th May at Mary's Underground in Sydney – better change plans. Unfortunately this event has been cancelled due to insufficient pre-ticket sales. A shame, since many of our sales are late notice, but there is one other Sydney Metro venue in the tour - 2 shows at the Brass Monkey in Cronulla. Apparently all other venues listed are looking good. Book through the venue in each case - as per the list below. Take care to note the start time given at time of booking.

SAT 15TH MAY - MANGROVE MOUNTAIN HALL -
MANGROVE MOUNTAIN, NSW
TICKETS: https://www.trybooking.com/events/landing?eid=871590

FRI 27TH MAY - ZIGGY POPS - ST KILDA, VIC
TICKETS: https://ziggypops.oztix.com.au/outlet/event/13de71f7-e0e6-486f-8c8a-6d7925f2f5e0?Event=129497&fbclid=IwAR3DKgNyPPVQlbqttAoyd6bHcEGnB1I0BMQHMTsJrQOU3sxQwvsKsq0jnWE
SAT 28TH MAY - ARCHIES CREEK HOTEL - ARCHIES CREEK VIC
TICKETS: https://www.trybooking.com/events/landing?embed&eid=869870
SAT 4TH JUNE - BRASS MONKEY (Cronulla Jazz & Blues Festival) - CRONULLA NSW
TICKETS EARLY SHOW: https://brassmonkey.oztix.com.au/outlet/event/31ca79b7-21fa-493d-8b49-8c3ea6da92cf?Event=138083&fbclid=IwAR1JeL6L4rJT-sviLQ5y29LeEPVnEytKWpmR9dNJqDcrUVhyw5zCRtYNxwY
TICKETS LATE SHOW: https://brassmonkey.oztix.com.au/outlet/event/0c31c700-658f-4671-8876-5683d71cec35?Event=138084&fbclid=IwAR1ShlwpwsHnnR3TDxmBE1KwjEqBiKYIkCihtpjMO1oIzE5oQuXhq_RbL6A
SAT 11TH JUNE - BOWRAL BOWLING CLUB - BOWRAL NSW TICKETS: https://www.moshtix.com.au/v2/event/ray-beadle-the-foreday-riders-%E2%80%93-album-tour/135956?fbclid=IwAR0CLTYzrL4osXp1qk3GfZHurEfq41GbpNst8jVo_tveSqkSRQSSydjW0U4
SAT 18TH JUNE - STAG & HUNTER - NEWCASTLE NSW TICKETS: https://stagandhunter.oztix.com.au/outlet/event/b740ef69-2663-4855-a035-3aae957958fc?Event=139284&fbclid=IwAR0CLTYzrL4osXp1qk3GfZHurEfq41GbpNst8jVo_tveSqkSRQSSydjW0U4
FRI 24 JUNE - JINDALEE HOTEL – JINDALEE QLD TICKETS: https://tickets.oztix.com.au/outlet/event/bfa12d1d-0c9b-4461-8a7d-b3ee29f21db3?fbclid=IwAR2j2XapM1lgozca4mgHk5b23se2u7dSdV1iFUfokt68O23vCG1Ejz9ycTo
SAT 25 JUNE - THE LOUNGE (THE ROYAL) - BRISBANE QLD TICKETS: https://tickets.oztix.com.au/outlet/event/27098623-9ae0-4c40-9538-9b8006f2b04c?fbclid=IwAR21x5-tSji9a_NzZJy8wtJZY5ZXSmKYe-mg5DhKE06YAx4rLyzG-YXNqek
SUN 26TH JUNE - WALLABY HOTEL - MUDGEERABA QLD
FREE ENTRY: www.wallabyhotel.com.au
An updated poster is attached.
(Note: 50th Anniversary Tee shirts - now up to Size 3X - available at all events).
* * *
R.I.P. TONY PEDROZA
FAREWELL PEDRO
The Foreday Riders sadly note the passing of Tony Pedroza ('PEDRO' to us) who died peacefully in good hands, on the 5th October, 2021, from cancer. We extend our sympathy to his wife Ilza and his son Antony and family at this stressful time.
We haven't seen anything of Tony for several years, but he did two memorable 'Tours of Duty' with the Riders (1978 – 1985 and again 2007 – 2013) where he proved himself a dynamic, high energy front man, with assertive vocals and powerful rhythm and lead work on guitar. With a solid background in 60s London R & B, he was a total musician, very popular with Sydney's blues audiences (Tony and the King Brothers also worked in an acoustic format for some years).
As well as working with many notable Sydney musicians in jazz, soul and blues, he led his own electric trios. Ever the enthusiast, he was also a regular participant in weekly 'Blues Jam' nights. A good example of Tony's stage presence can be found on the album 'Blues Reform School', recorded at the Riders' 30th anniversary in 1997, where he lets loose with his most requested song 'Mystery Train' [see featured video in column to the right --ED]. Tony's distinctive musical personality will certainly be missed by all who knew him.
* * *
Sydney Morning Herald's
GOOD WEEKEND pays tribute
to The KING BROTHERS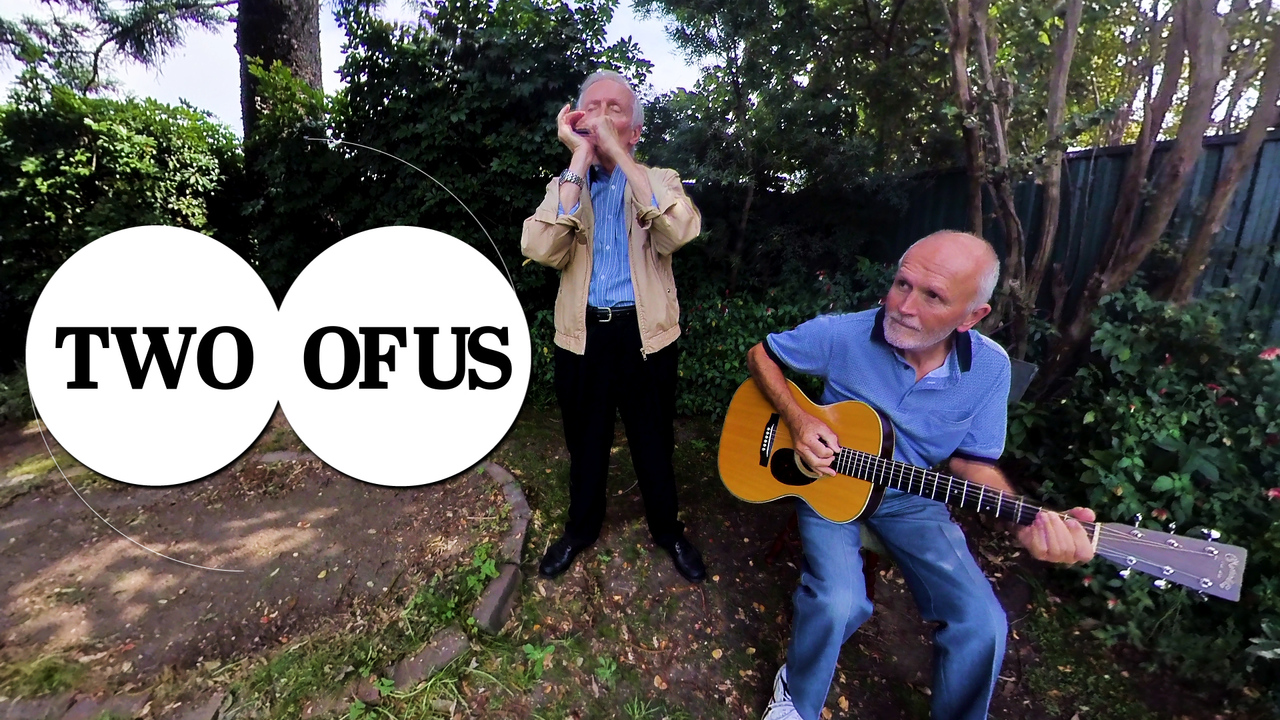 'We're totally different animals': but these brothers still play together, 50 years on
By Tim Elliott, May 28, 2021
Ron King, 75, and his brother Jeff, 71, are founders of veteran Sydney blues band, the Foreday Riders, which began playing in 1967. While opposites off stage, the two men share a special connection when the music starts.
Ron: Jeff and I went to Meadowbank Boys High [in north-western Sydney]. We had our usual spats. I used to torment Jeff when he was doing his homework and, one day, he did his bottle and stabbed me in the wrist with a pencil. I probably got lead poisoning from it: I still have the mark. Things were different in the 1950s, when we grew up. We had occasional holidays, but they were pretty simple: once we got the steam train to Nambucca!
As kids we listened to the Top 40 on the radio: 1950s rock'n'roll – Jerry Lee Lewis, Chuck Berry, Gene Vincent. When I turned 18, I started buying albums and brainwashing Jeff with my record collection. I got into traditional jazz and skiffle, then the Beatles. But the turning point was the Rolling Stones. Jeff came home from school one day and said: "I've heard something I think you'll like." It was the Stones doing Howlin' Wolf's song, Little Red Rooster. That led us to the Chicago blues guys like Muddy Waters and Jimmy Rogers.
Jeff was already playing guitar. John Murphy, a school mate of ours, said to me, "Why don't you try harmonica?" And I thought: "I can't go broke buying a harmonica!" The band started in our house, with school friends coming around. We'd rehearse in my bedroom, or on the back verandah or the lounge room, banging away.
Our folks were very accommodating. They probably thought it was keeping us off the street. We started playing 21sts and school dances. Then we worked in a wine bar in The Rocks [by the Harbour Bridge], then at various joints in Sydney's inner west. Back then, places like Rozelle and Balmain were very working class and hard-drinking.
"Jeff said to me we're so different but the common ground is the music, and that has kept us good buddies."
We've been playing so long together that our relationship on stage has become very symbiotic, almost psychic. We know our moves so well, which isn't always the best thing. A lot of the blues is about improvising: some people say it's better if you go off on your own tangent.
'Music is our common ground, but we're totally different animals when it comes to other stuff. I've always been a great reader, but Jeff's probably only read a couple of novels in his life. He's a practical guy. He likes camping, fishing, anything to do with cars, woodwork, metalwork. I'm a movie buff, but he's never had time to get into it, so I recommend stuff to him.
Also, I've never been married – not for lack of interest – and I don't have any kids. But Jeff got married in 1978: he has five kids and seven grandkids. So I'm the eccentric uncle, which keeps me busy. Jeff once said to me that we're so different but the common ground is the music, and that has kept us good buddies. Or maybe it's because we're so different that we get along.
If you'd told us when we began that we'd still be playing music 50 years later, we would have laughed. But the blues isn't an overnight thing; it's a stayer, it's a marathon. If you're playing blues, you're in for the long haul.
Jeff: We moved from Meadowbank to West Ryde when I was four. We had a very simple life – Dad didn't even have a car until we were in our teens. Ron and I were typical kids and we had our tiffs. At the age of 14, I was doing homework at the dining table and Ron was driving me crazy, so I got a pencil and stabbed him right in the wrist with it. Got him a beauty! I thought he was going to kill me, but that was the last fight we ever had.
Neither of us were sports-minded. Ron was much more into books and movies. We used to have a cinema at West Ryde and, as the older brother, he used to take me to the movies. He's into books and digs the intellectual stuff.
He's just a very bright cookie. But he's not into technology: he's never had a computer and he doesn't drive. He'll go to the bank to get money out over the counter instead of using a card. He still uses a Bakelite landline with the old rotary dial. He has a mobile phone, but he doesn't tell anyone about it. I'm the only one who knows he's got it, so I call him up now and again so he can practise. He was really peed off when the NBN came in, because he didn't want to lose his landline. But he's the best harmonica player in Australia.
I was given a guitar at 15 by my cousin. I got a book on how to play it and just plugged away at that. But I learnt by ear – I can't read a note. That's why I got interested in blues, because it was just three chords!
NOW on CD!
RIDIN' WITH RAY
click image for details
* * *
Click here for the Rhythms, June 2014 review of the Days of Wine and Vinyl re-issue project.
* * *
Kinkumber
13 June, 2014

Dee Why
14 June, 2014

45th Anniversary,
Notes, Newtown
11 August, 2012

42nd Anniversary,
Windsor, NSW
15 August, 2009